L'Ostal is located in the heart of the village of Saint Hilaire d'Ozilhan, a few kilometers from the Pont du Gard. The building, originally a barn dating from 1850, was renovated and transformed into a guest house by us in 2017-2018 with the help of local professionals.
On the ground floor…
A welcoming dining room where you can have breakfast, snacks or dinner. A room has been specially designed to accommodate a Spa which you can use as a couple or with a friend; a place of pure relaxation after a day of sight-seeing.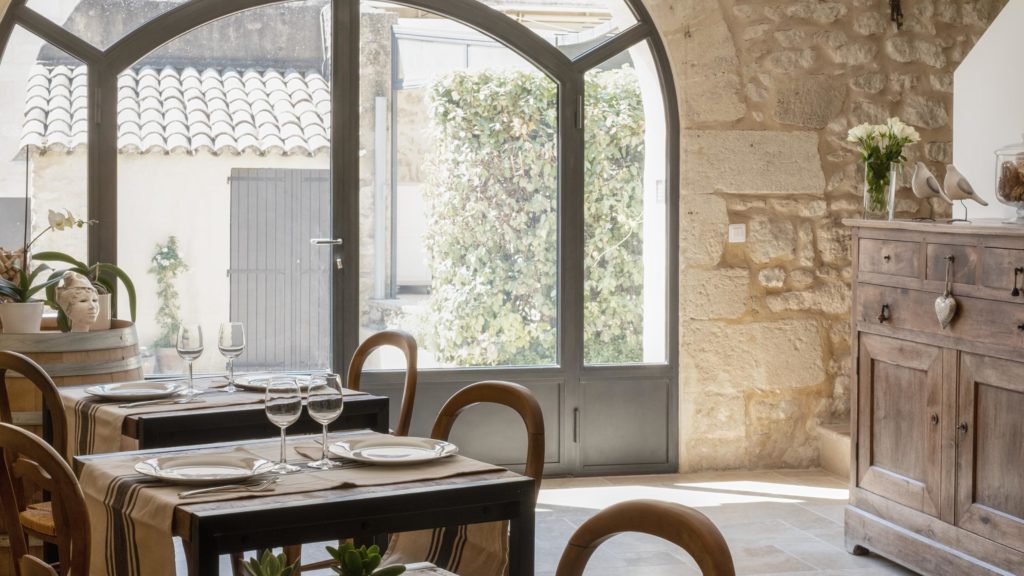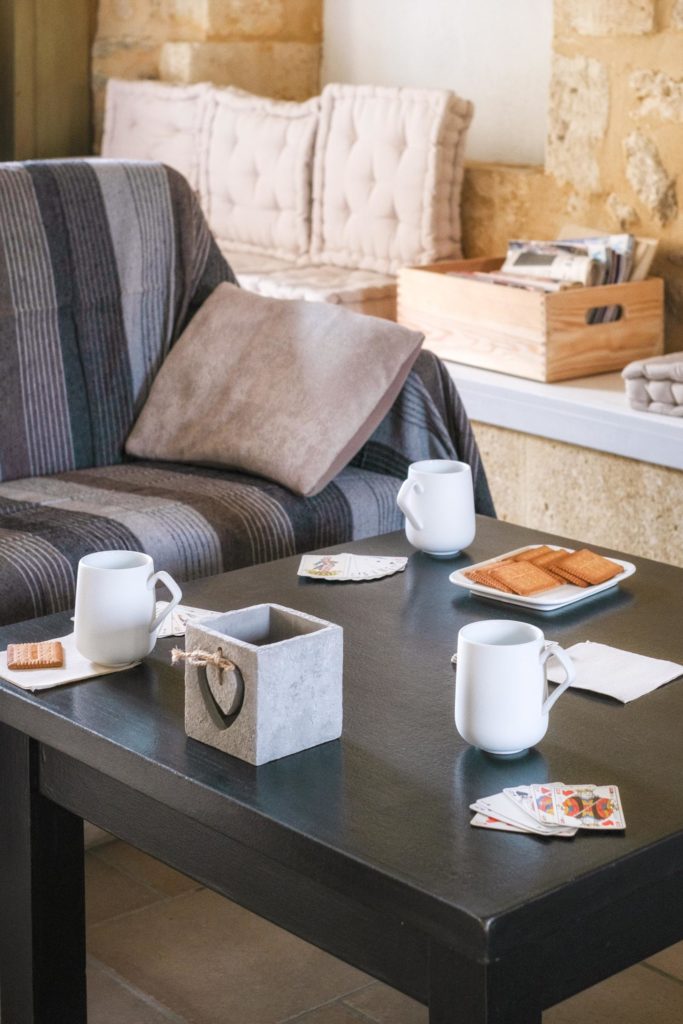 the Arceau Living Room
The 5 bedrooms are all located on the 1st floor where you will also find the Arceau living room; a room entirely dedicated to enjoyment and suspended above the street which bears its name. This cosy area is specially reserved for you to enjoy the large library, board games, a record player, relax in the settees, or partake in a hot or cold drink ….
Terrace and garden
A large terrace awaits you in the summer for breakfast, snacks and dinner. We have created a pretty, local stone fountain (stone from the quarry at Vers Pont du Gard ) which was designed and built by a young stonemason in our village. The small garden under the olive tree is a very popular spot for guests to relax, have a drink, or enjoy a private tapas or dinner.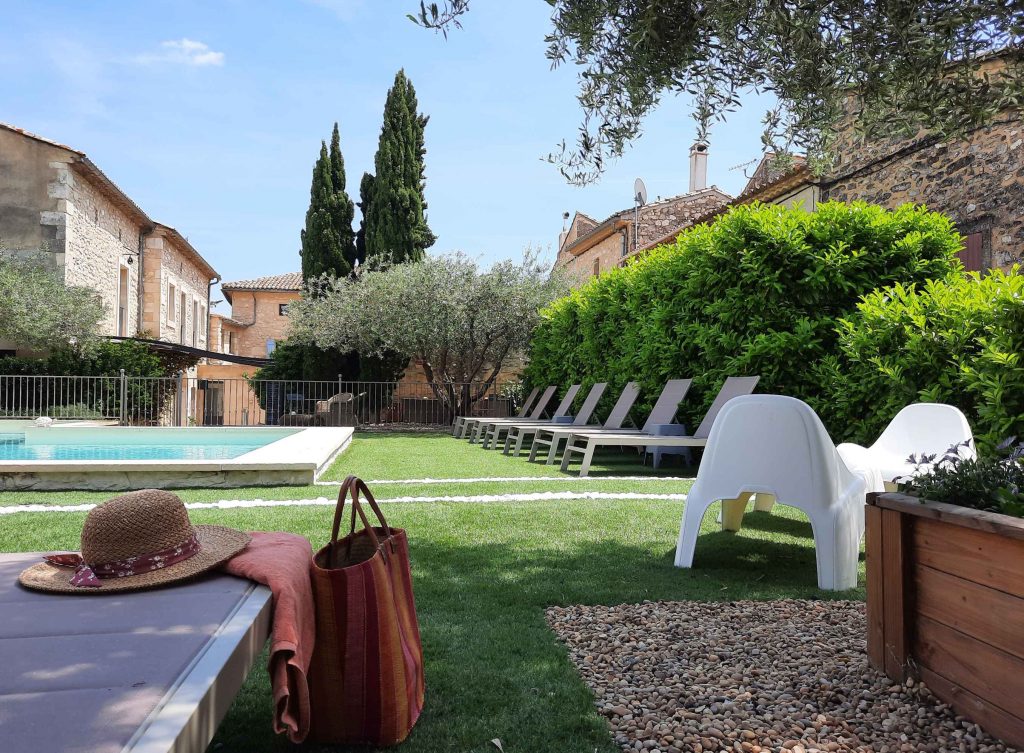 the swimming pool
An essential way of keeping cool during the summer, the swimming pool is accessible from 09.00 a.m. to 10.00 p.m. Every guest will find a spot in the sun around the poolside or under the mulberry trees if you prefer shade. It's a spot to read or swim a few laps and an ideal place to cool off and enjoy a moment of relaxation… a large pool of 24m² and 10 meter swimming lanes ensures a relaxing swim in peace.
Parking
Our secure car park can accommodate up to 5 cars: a place will be reserved for you and you will receive a code on your arrival which will allow you to access it.
The courtyard, which is accessible via a large gate (no gravel), can also accommodate motorbikes.
Cyclists are also welcome and, in 2021, we obtained «Accueil Vélo» certification. An enclosed area is ideal to safely store your bicycle.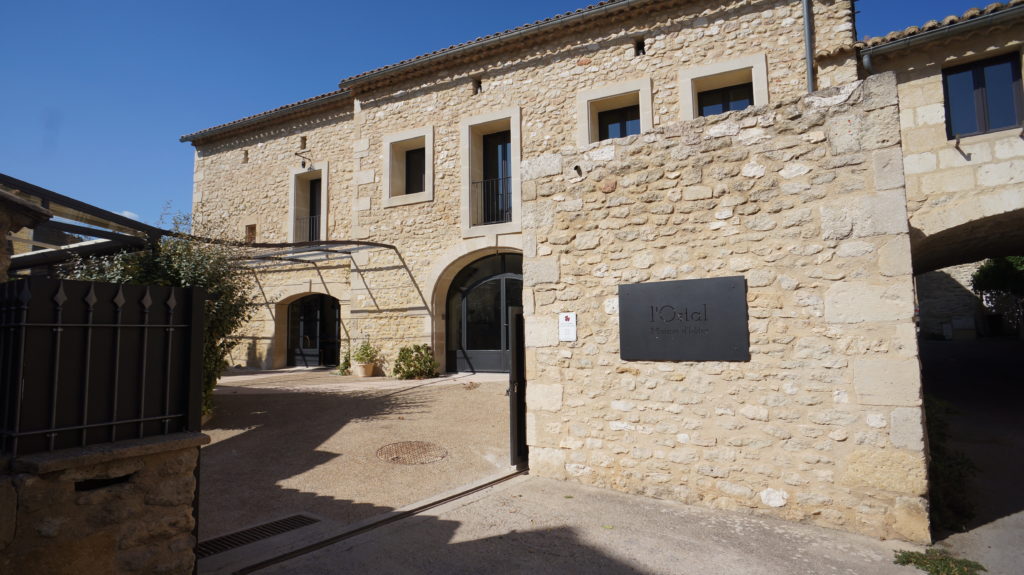 Galerie
Book now !
Loading…
– Best Price Guaranteed –